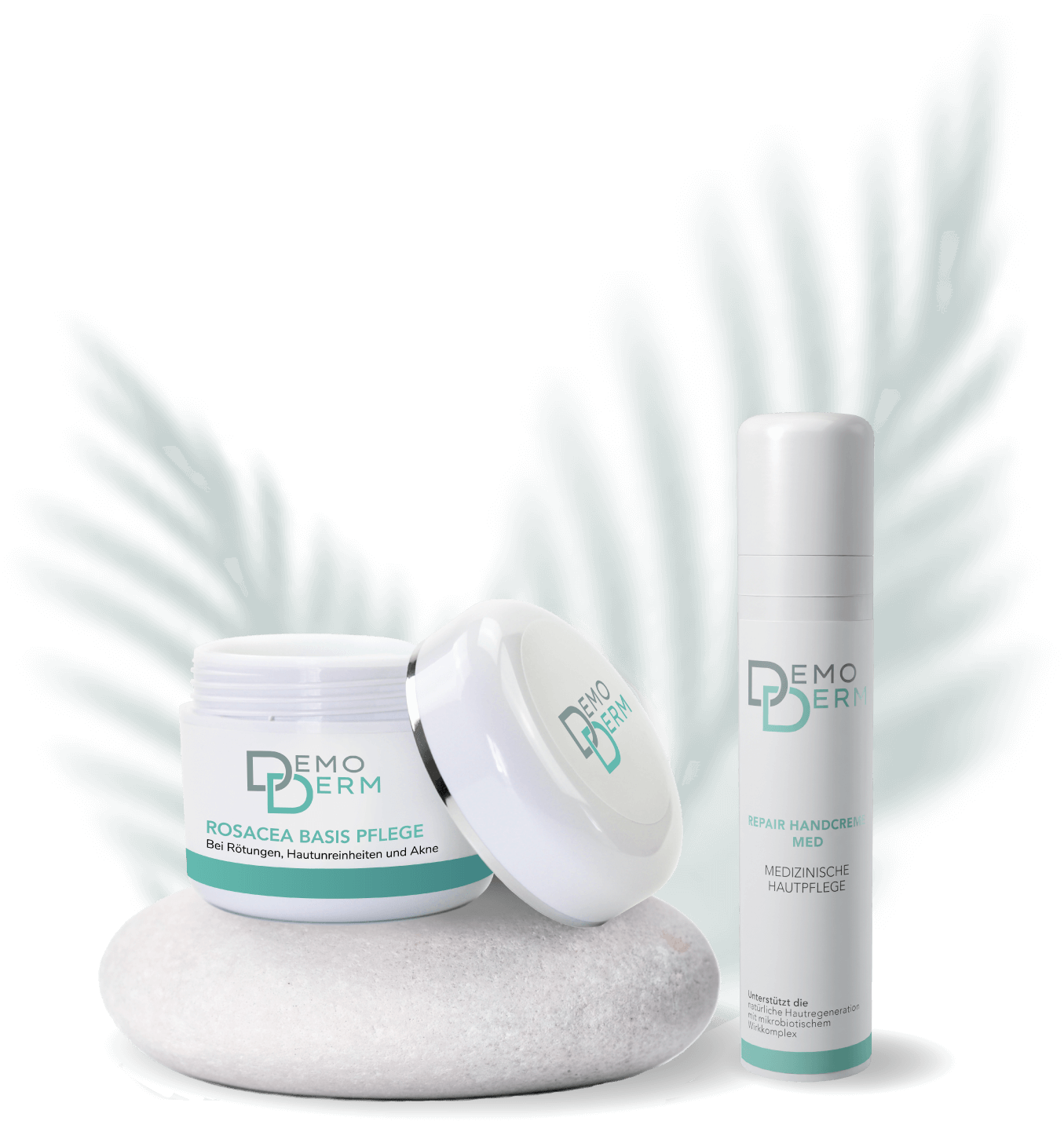 DemoDerm Rosacea Basis Pflege & DemoDerm Repair Handcreme Med. Optimisation of a healthy skin environment without active medical ingredients through a 3-phase revolution with long-lasting effects. Tried and tested for rosacea, pimples, pustules, acne & red, irritated skin – based on the mite theory of the Chinese Professor Zhao ZhongZhou, and manufactured in Germany.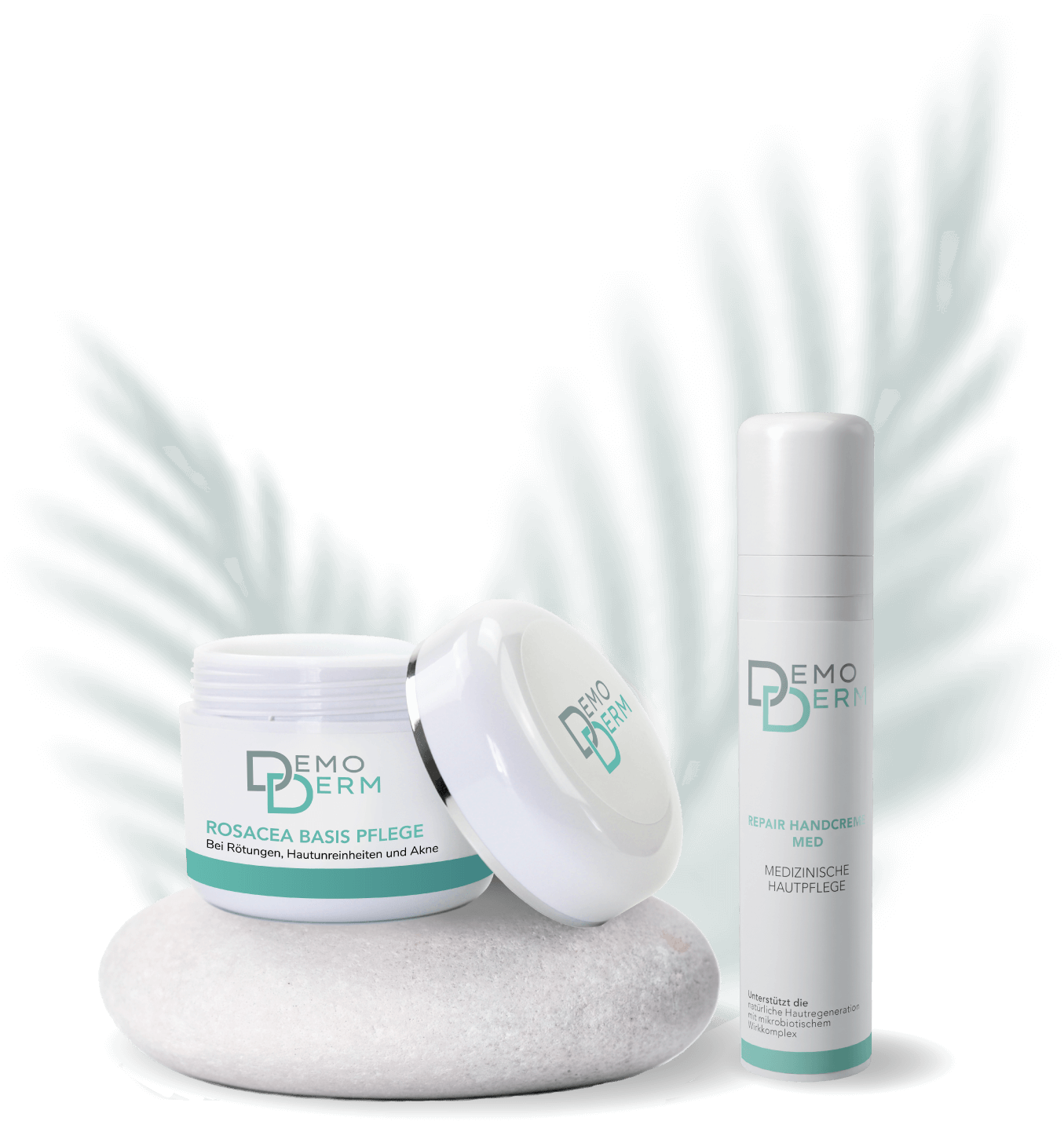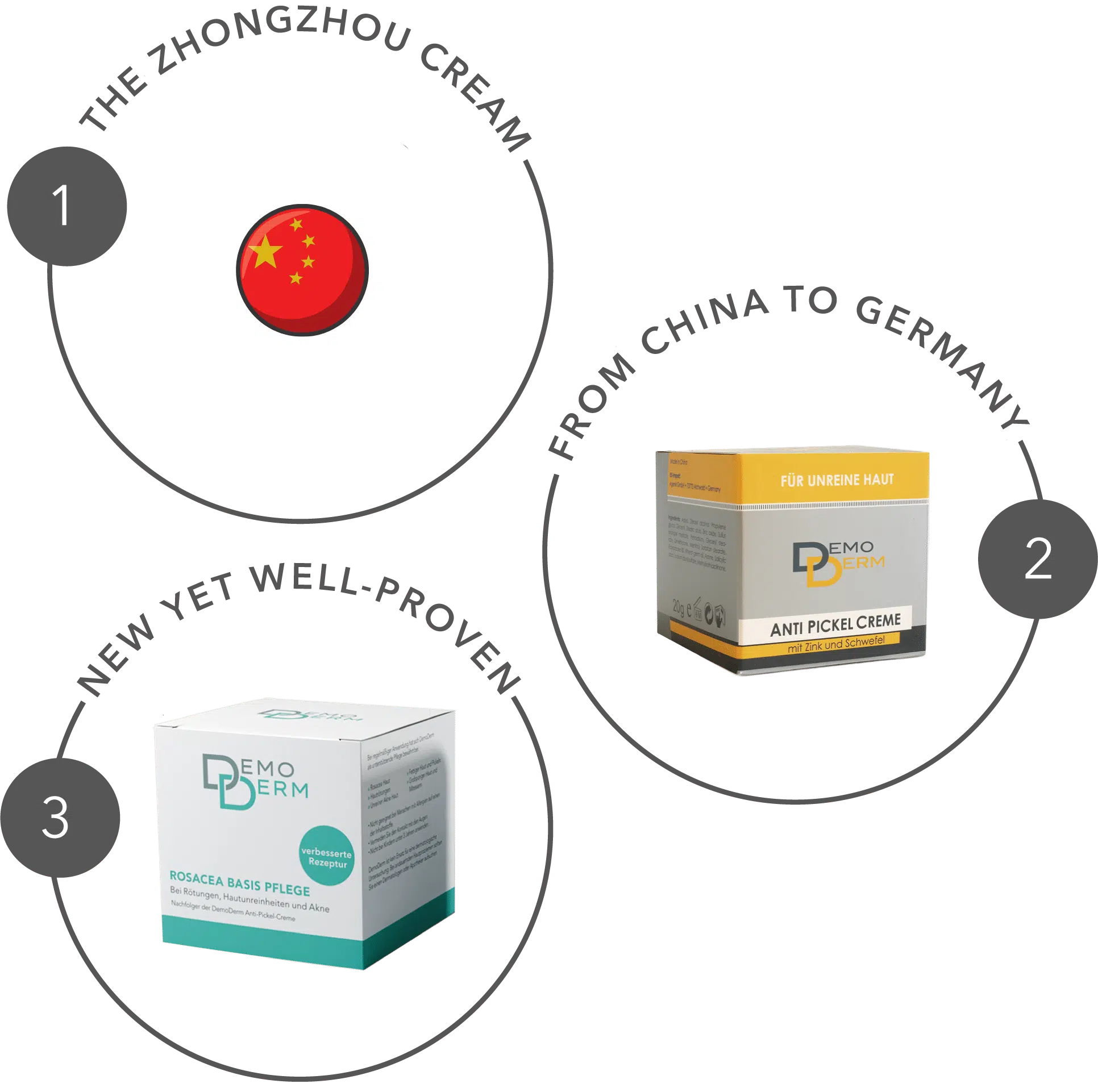 The successor to DemoDerm Anti Pickel Creme
New DemoDerm Rosacea Basis Pflege ("rosacea basic care") – the successor to the successful DemoDerm Anti Pickel Creme ("anti-pimple cream") – already entered its next generation in 2020, with a new name and a new design. The cream comes in a new pastel mint design and is completely developed, produced and manufactured in Germany by the EU brand owner Agenki GmbH.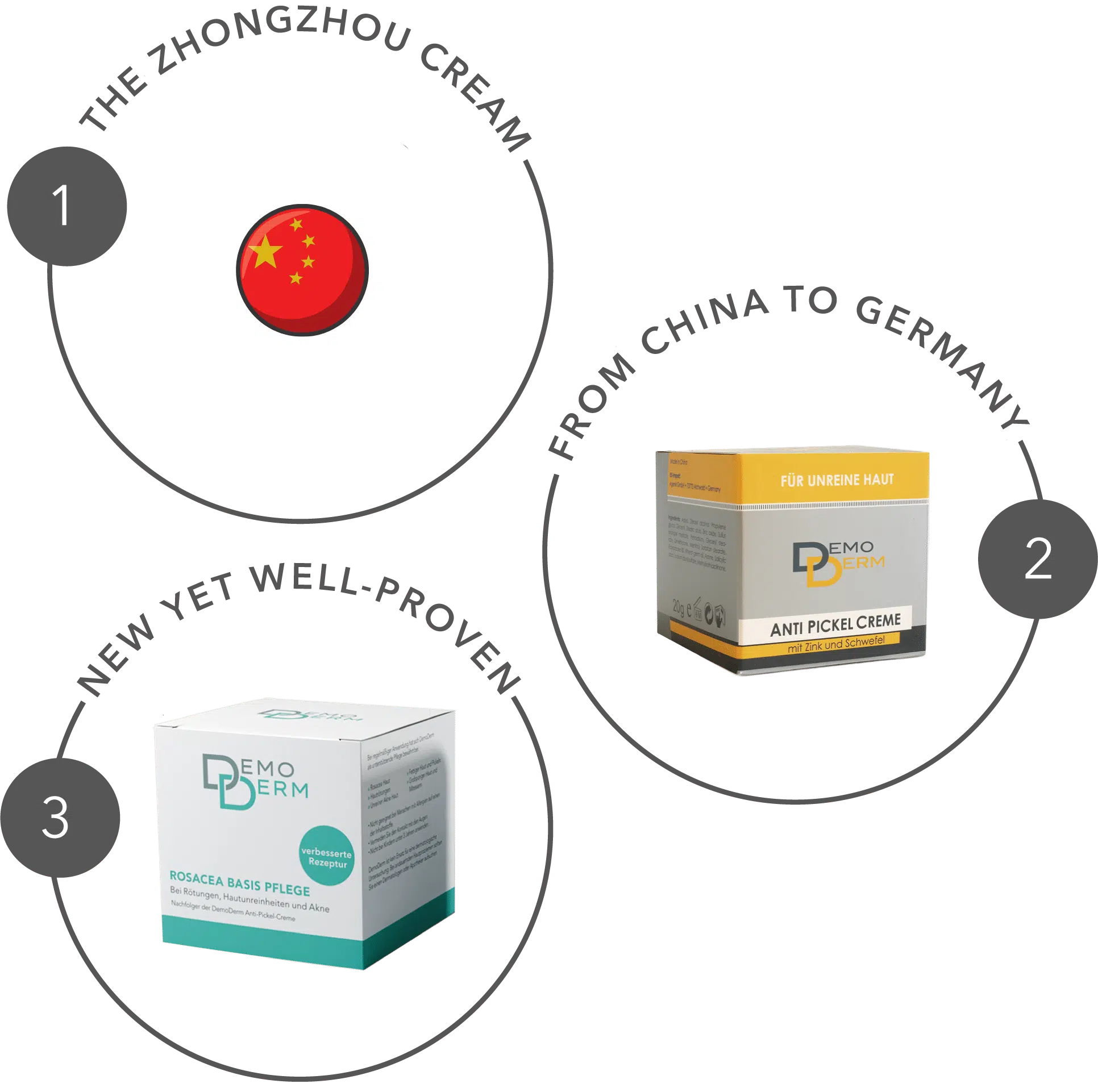 Care for rosacea, rashes, skin impurities and acne
DemoDerm is a care product created especially for adult women and men with skin problems. If you suffer from rosacea, acne, skin impurities or rashes, then Rosacea Basis Pflege cream can help you regain normal, smooth facial skin.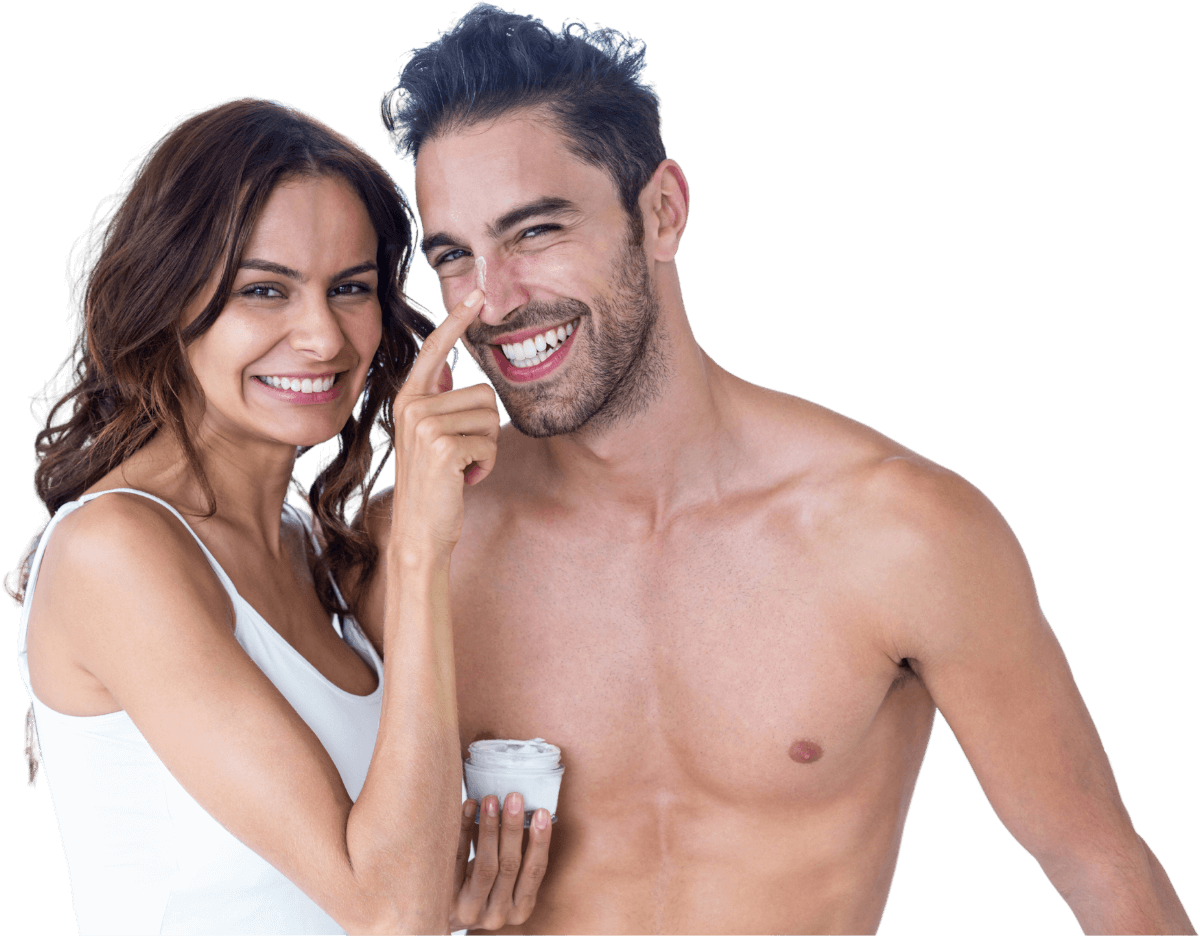 How do you apply DemoDerm ?
The 3-phase revolution for beautiful skin
For optimal results, apply the cream from the hairline to below the chin, thereby avoiding as large an area as possible around the eyes. When applying directly to affected areas, ideally apply the cream over an area at least three fingers wider than the visible symptoms. Use the three phases of acclimatisation, regeneration and stabilisation as a guide.

Based on the mite theory of Prof. Zhao ZhongZhou
It was over ten years ago that we first came into contact with the ZZ Cream from China. There were many reports about its great effects. However, the cream and its formulation were not approved in Germany – so we developed a cream under the name DemoDerm Rosacea Basis Pflege, adapted to European cosmetic regulations.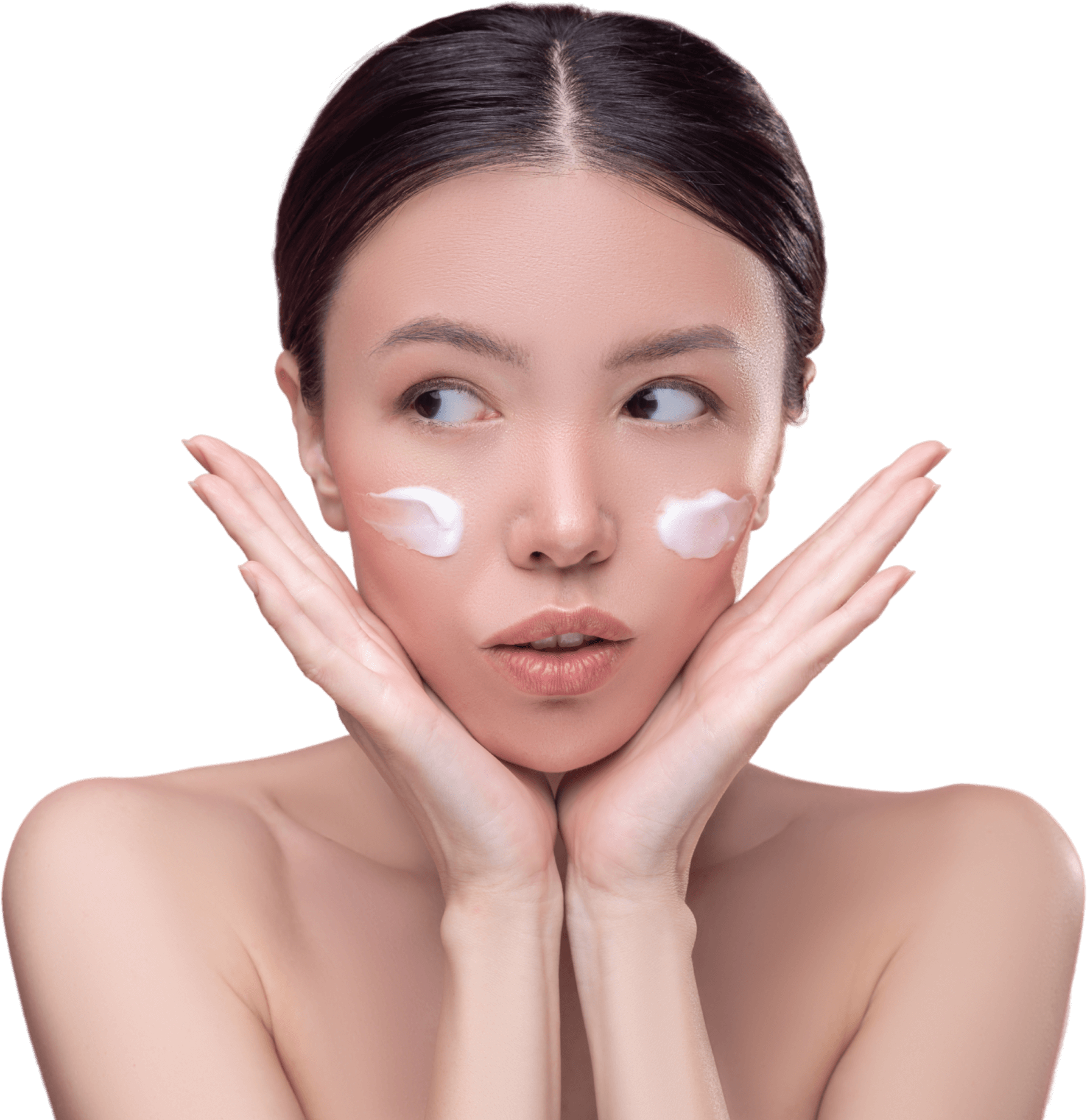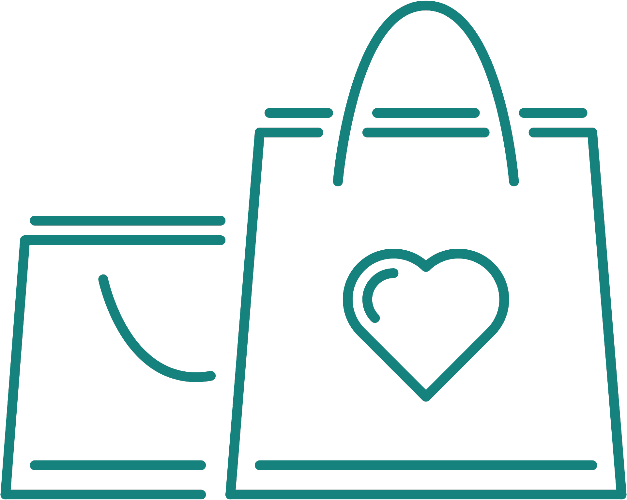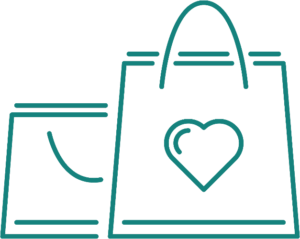 Application of
DemoDerm Rosacea Basis Pflege
DemoDerm Rosacea Basis Pflege is not suitable for neurodermatitis and perioral dermatitis.


Recommendations for use
What should one do if the skin gets worse?
Cleansing and care
If DemoDerm Rosacea Basis Pflege doesn't have the desired effect, the cause is often incorrect or excessive cleansing and care. It's important to realise that problem skin requires different treatment from healthy skin. Moisturising creams and anti-aging products may be beneficial for healthy skin, but they make it impossible to regenerate problem skin. The rule here is: fewer active substances, fewer ingredients and mild, minimal cleansing. Refrain from using cleansing gels and face lotions and confine yourself to cleansing with (lukewarm) water. If necessary, a skin pH-neutral soap can be used (pH 5.0 - 5.5). Our tip: Cleanse your face using make-up removal pads. The special fibre combination of suitable pads enables the skin to be cleansed using water only. Our motto "Less is more" has proven itself a thousand times over. When you apply DemoDerm Rosacea Basis Pflege, you don't need any aids or products other than water.
Do you suspect skin intolerance?
Even though no real allergic reactions to DemoDerm Rosacea Basis Pflege are known and it contains no substances of concern, cases of intolerance can never be ruled out for any substance. Our recommendation: To distinguish a temporary overwhelming of the skin from an intolerance, apply DemoDerm Rosacea Basis Pflege to the crook of the arm once a day for 3 days. In the event of a skin reaction, discontinue application.
Tip for itchy scalps and people with beards
Use a homemade spray solution. Simply add a trace of DemoDerm Rosacea Basis Pflege to 100 ml of water, fill a spray bottle with the solution, shake well and spray on.
The story of
DemoDerm Rosacea Basis Pflege
The story of DemoDerm begins in China. The Chinese professor and "skin fanatic" ZhongZhou is regarded as one of the first doctors in the world to succeed in removing even persistent skin impurities. Over 50 years ago, Zhao ZhongZhou identified demodex mites as the cause of persistent skin problems. Over many years of work, he developed the Chinese "ZhongZhou Cream", which has been proving its worth in the battle against the mites for almost as long.
Over 10 years ago, a patient of co-founder and Agenki partner Dominik Golenhofen visited him at his naturopathic practice and reported an interesting find on the internet: a Chinese cream against skin impurities. According to the patient, it all sounded very promising, and he asked Mr Golenhofen for his expert advice. That very evening, Dominik Golenhofen started searching online for the ZhongZhou Cream from China. He found that it concerned skin mites and a solution for rosacea and acne. As an academic, critical by nature but interested, he had a look at Professor ZhongZhou's research and theories about demodex mites, which are said to occur more frequently in people affected by acne and rosacea.
Despite the convincing results from China, a major challenge still had to be overcome, as the cream did not comply with the guidelines of the European Cosmetics Directive. The formulation of the Chinese cream therefore offered no chance of making the cream available to all the rosacea sufferers in Germany. Demodex Solutions then developed a cream for the German market, with the participation of Dominik Golenhofen. After several years, the big day finally arrived in 2015 – when, under the name DemoDerm Anti Pickel Creme ("anti-pimple cream"), the first jars went on sale in Germany through Agenki GmbH.
Then, in 2020, the next step followed. After Agenki acquired the brand rights to DemoDerm, production was also relocated to Germany. In the course of these changes, a rebranding was carried out. To begin with, the name was changed from DemoDerm Anti Pickel Creme to DemoDerm Rosacea Basis Pflege ("rosacea basic care"); in addition, the cream entered its next generation with a new pastel mint design.
Ever since, DemoDerm cream has been completely developed, produced and manufactured in Germany by Agenki GmbH. The proven active ingredients have been retained: only the excipients (such as preservatives) have been adapted. With the German production site, the quality standard has once again been adapted to the high requirements at the European level.
Impressions of
DemoDerm Cream
Customer service / Contact
We're happy to answer any questions you may have about our DemoDerm products.
Just e-mail us at info@demoderm.com or use the contact form.
Our customer service is currently only available in German and English: thank you for your understanding!
We look forward to your enquiry.